Molte notizie degli ultimi giorni sono fonte di preoccupazione, in modo molto diverso.
Continuano ad uscire sul tema dei cambiamenti climatici studi importanti e preoccupanti, che meriterebbero ben altro spazio e attenzione dei media.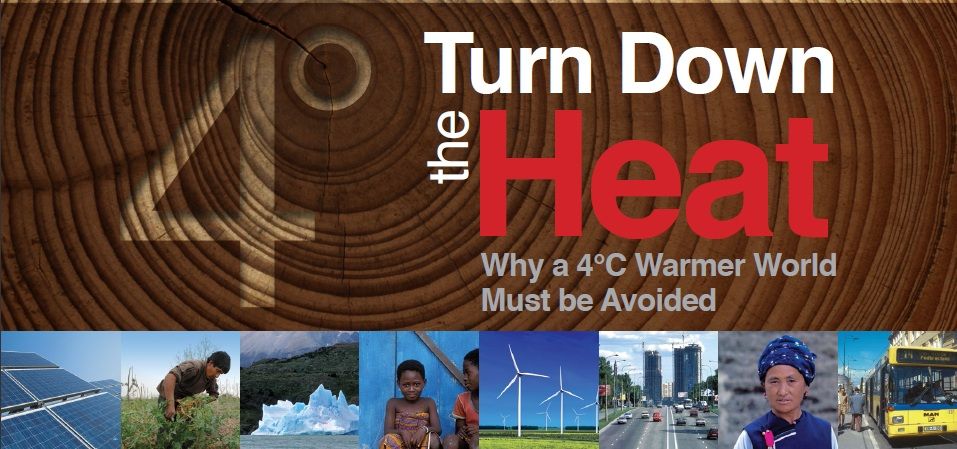 Turn Down the heat. Why a +4°C warmer world must be avoided, il rapporto commissionato dalla Banca Mondiale al Potsdam Institute for Climate Impact Research e di Climate Analytics, un documento che potrebbe servire alla revisione delle politiche della Banca; il fine è di cercare di evitare un mondo più caldo di4°C, che sarebbe un mondo con ondate di calore senza precedenti, siccità e inondazioni gravi, importante in molte regioni, con gravi ripercussioni sul sistema economica, sulla povertà, sugli ecosistemi e i servizi da loro forniti. Il Presidente della Banca, nella sua introduzione, scrive: "It is my hope that this report shocks us into action…. The World Bank Group will step up to the challenge" ("Spero che questo report ci spinga all'azione… la Banca Mondiale si accinge a far fronte alla sfida").
The State of greenhouse gases based on observations up to 2011 del WMO, l'Organizzazione Meteorologica mondiale. Il rallentamento dell'economia globale non frena l'aumento dei tre principali gas serra, CO2, metano e N2O, che l'anno scorso rappresentavano nel complesso una forzante radiativa equivalente a 473 ppm di CO2 atmosferica, un aumento del 30% rispetto al 1990.
"Abbassare la temperatura", come chiesto nel rapporto commissionato dalla Banca Mondiale non sarà facile. Continue Reading »