Pubblichiamo la traduzione del post di Gavin Schmidt su Realclimate, che contiene l'ennesima stroncatura di un articolo pubblicato dal prof. Nicola Scafetta

Pochi giorni fa sulla rivista Geophysical Research Letters (GRL) è comparso un nuovo articolo di Nicola Scafetta (Scafetta, 2022) che ha la pretesa di concludere che i modelli CMIP6 con sensibilità climatica [si veda la nota esplicativa 1 in fondo] media o alta (ECS superiore a 3ºC) non sono coerenti con i recenti cambiamenti osservati della temperatura. Poiché ci sono già stati numerosi articoli su questo argomento, in particolare Tokarska et al (2020), che non sono giunti a tale conclusione, vale la pena cercare di capire da dove proviene il risultato di Scafetta. Sfortunatamente, il risultato sembra emergere da un'errata valutazione di quanto contenuto nell'archivio CMIP6, da un test statistico inappropriato e dall'aver totalmente trascurato l'incertezza osservativa e la variabilità interna.
Insieme a John Kennedy e Gareth Jones del Met Office britannico, ho preparato una breve spiegazione di quello che riteniamo sia stato fatto di sbagliato. I punti principali sono tre:
Non è stato tenuto conto dell'incertezza nei dati osservati.
Non si sono considerate le singole simulazioni ma solo le medie di insieme (ensemble mean) dei modelli.
È stato applicato un test statistico che garantisce l'esclusione di qualsiasi episodio particolare di variabilità interna se il segnale forzato è ben vincolato.
I primi due punti sono illustrati chiaramente da questa figura: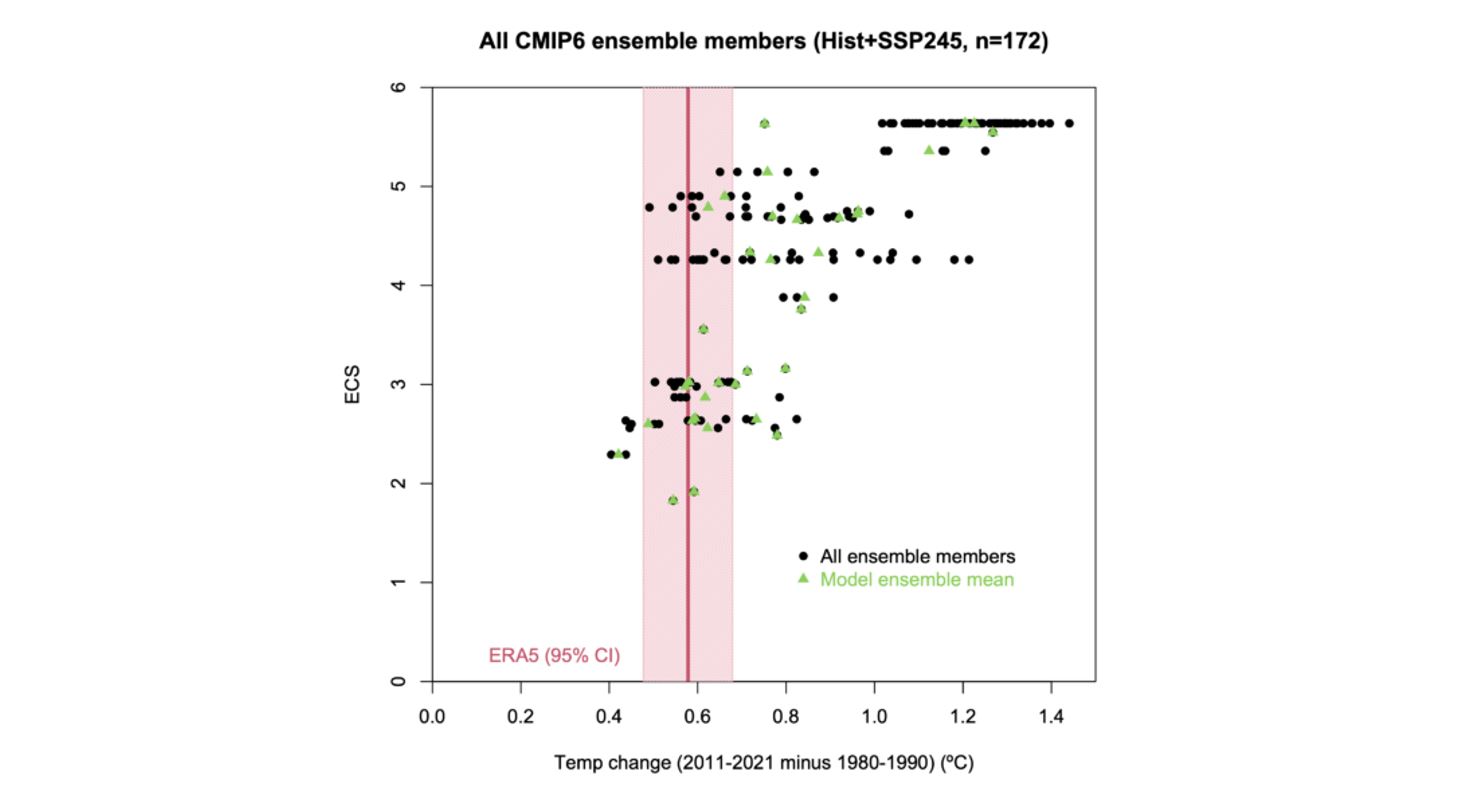 Variazione della temperatura dal 1980-1990 al 2011-2021 nella rianalisi ERA5 e nell'insieme dei CMIP6 in funzione della ECS (Equilibrium Climate Sensitivity, Sensitività del Clima all'Equilibrio) dei modelli.
L'incertezza nell'aumento della temperatura osservata (ERA5) è rappresentata dalla fascia rosa, mentre le singole simulazioni modellistiche sono rappresentate dai punti neri (ce ne sono 172, e quelle dello stesso modello sono sulla stessa linea orizzontale). I triangoli verdi sono la media di insieme (ensemble mean, nota 2) per ciascuno dei 37 modelli (per i modelli che hanno un insieme di un solo membro, il triangolo verde è sovrapposto al punto nero).
Un paio di cose appaiono subito ovvie. In primo luogo, ci sono 3 modelli con una ECS > 3ºC la cui media di insieme è coerente con l'aumento di temperatura di ERA5, entro il margine di incertezza ma, cosa più importante, 49 membri appartenenti agli ensemble di 18 modelli sono compatibili con il risultato di ERA5. Di questi 18 modelli, la metà ha una ECS superiore a 3ºC e contraddice pertanto l'affermazione di Scafetta secondo la quale «tutti i modelli con ECS > 3,0ºC sovrastimano il riscaldamento globale osservato alla superficie».
Per la sua analisi Scafetta usa soltanto la media di insieme per ciascun modello (i triangoli verdi) – nonostante affermi di considerare una singola simulazione – e ignora del tutto l'incertezza di ERA5. Queste sue scelte portano a un risultato fondamentalmente fuorviante. Curiosamente, quando si riferisce ai dati ERA5, cita l'articolo di Huang et al. "Extended Reconstructed Sea Surface Temperature, Version 5 (ERSSTv5)" del 2017 – un set di dati sulla temperatura dell'oceano – invece di Hersbach et al (2020).
Nella seconda parte dell'analisi di Scafetta, l'errore sta nel far riferimento ad un altro errore, di Douglass et al. (2008), peraltro già discusso in Santer et al. (2008). Scafetta sottopone a test la differenza tra le medie di insieme dei modelli (il pattern forzato) e il pattern osservativo esatto (che è la combinazione di un segnale forzato e di una realizzazione della variabilità interna), rispetto all'incertezza del pattern forzato[nota 3]. Questa procedura ha la bizzarra proprietà di garantire, in pratica, l'esclusione dalla significatività statistica (la "rejection") di tutte le realizzazioni modellistiche di insieme all'aumentare del numero N dei membri dell'insieme stesso (poiché l'incertezza della media diminuisce con
, nota 4).
I risultati del test di Scafetta sono quindi inaffidabili.
Che fare?
GRL non accetta commenti sugli articoli pubblicati, una situazione di cui abbiamo già parlato qui. Ha però una procedura per le obiezioni: si segnala il o i problemi alla redazione della rivista che chiede all'autore o agli autori di rispondere. Ricevuta la risposta, il comitato editoriale decide come procedere, il che potrebbe andare dal non fare nulla, al pubblicare una correzione, all'imporre una ritrattazione. Così noi tre abbiamo inviato ai redattori la nota di spiegazione linkata sopra. Staremo a vedere!
Va sottolineato che siamo stati in grado di scrivere la nota così rapidamente poiché sono disponibili e pubblici gli archivi dei dati ERA5, dei valori di ECS per i modelli CMIP6 e del sito Climate Explorer, e per il fatto che errori simili sono stati fatti molte volte in passato.
Che significato avrà tutto ciò?
Come scriviamo nella nota, anche se l'analisi di Scafetta è fallata, ciò non significa che tutti i modelli CMIP6 rappresentino correttamente il periodo storico. E come abbiamo già detto, l'archivio CMIP6 va usato con più attenzione delle versioni precedenti (#NotAllModels, Making predictions with the CMIP6 ensemble). Inoltre, la scarsa performance di uno specifico modello rispetto a questi tipi di osservazioni (rianalisi) potrebbe anche essere dovuta a forzanti non corrette (come gli aerosol, per i quali c'è ancora molta incertezza).
Terremo i lettori al corrente degli sviluppi…
Bibliografia
Douglass D.H., J.R. Christy, B.D. Pearson, and S.F. Singer, "A comparison of tropical temperature trends with model predictions", International Journal of Climatology, vol. 28, pp. 1693-1701, 2008. http://dx.doi.org/10.1002/joc.1651
Hersbach H., B. Bell, P. Berrisford, S. Hirahara, A. Horányi, J. Muñoz‐Sabater, J. Nicolas, C. Peubey, R. Radu, D. Schepers, A. Simmons, C. Soci, S. Abdalla, X. Abellan, G. Balsamo, P. Bechtold, G. Biavati, J. Bidlot, M. Bonavita, G. Chiara, P. Dahlgren, D. Dee, M. Diamantakis, R. Dragani, J. Flemming, R. Forbes, M. Fuentes, A. Geer, L. Haimberger, S. Healy, R.J. Hogan, E. Hólm, M. Janisková, S. Keeley, P. Laloyaux, P. Lopez, C. Lupu, G. Radnoti, P. Rosnay, I. Rozum, F. Vamborg, S. Villaume, and J. Thépaut, "The ERA5 global reanalysis", Quarterly Journal of the Royal Meteorological Society, vol. 146, pp. 1999-2049, 2020. http://dx.doi.org/10.1002/qj.3803
Scafetta N., "Advanced Testing of Low, Medium, and High ECS CMIP6 GCM Simulations Versus ERA5‐T2m", Geophysical Research Letters, vol. 49, 2022. http://dx.doi.org/10.1029/2022GL097716
Tokarska K.B., M.B. Stolpe, S. Sippel, E.M. Fischer, C.J. Smith, F. Lehner, and R. Knutti, "Past warming trend constrains future warming in CMIP6 models", Science Advances, vol. 6, 2020. http://dx.doi.org/10.1126/sciadv.aaz9549
Note esplicative
[1] La Sensibilità Climatica all'Equilibrio (Equilibrium Climate Sensitivity, ECS) è la variazione di temperatura media globale alla superficie del pianeta che si registra dopo aver raddoppiato la concentrazione di CO2 nell'atmosfera e si è atteso un tempo sufficiente a che il sistema raggiunga di nuovo un ragionevole equilibrio, quindi un tempo di alcuni decenni o secoli. Il Sesto Rapporto di Valutazione dell'IPCC  stima che, con un livello alto di confidenza, tale valore sia compreso tra 2,5°C e 4°C, con una best estimate di 3°C.
[2] Il termine "ensemble" da cui "ensemble mean" (insieme, media di insieme) si usa, in generale, ed in questo caso particolare, per descrivere un insieme di realizzazioni simili dello stato e/o dell'evoluzione di una situazione meteorologica o climatica. In questo caso, cioè quello delle simulazioni di scenario CMIP6 (si veda anche https://www.wcrp-climate.org/wgcm-cmip), i vari "ensemble" raggruppano, ognuno, le varie integrazioni modellistiche realizzate con lo stesso modello (anche se in configurazioni più o meno tra loro differenti). Si tratta di 172 integrazioni, raggruppate in 37 "ensemble", uno per ogni modello specifico (per un elenco dettagliato, si veda la Tabella 1 di Scafetta, 2022.
[3] Anche le singole integrazioni modellistiche (come il pattern osservativo "esatto") sono la combinazione di un segnale forzato e di una realizzazione della variabilità interna (del modello), ma nella loro media di insieme la variabilità interna si riduce molto, sino a tendere a mediarsi a zero (soprattutto per alti valori della popolazione dell'insieme), lasciando emergere il solo pattern forzato. Da ciò nasce la non confrontabilità statistica delle medie di insieme dei vari modelli con il singolo pattern osservato (ERA5).
[4] Esattamente come eseguire la media (di insieme) di N elementi (integrazioni modellistiche) dell'insieme stesso aiuta a far emergere il pattern forzato (il "segnale") ripulito dalla variabilità interna (considerata in questo contesto come "rumore"), essa diminuisce anche l'incertezza residua da attribuire al pattern forzato. All'aumentare di N, la variabilità residua (il rumore) tende a zero e quindi tende a zero anche l'incertezza sulla stima del pattern forzato (il segnale). Quindi, all'aumentare di N, la probabilità che pattern forzato e pattern osservato risultino tra loro statisticamente compatibili si riduce enormemente, rendendo molto più probabile la "rejection" del pattern forzato.
Traduzione di Sylvie Coyaud e Stefano Tibaldi
7 responses so far